FOOD LINEUP
NOS PRIMAVERA SOUND
NOS Primavera Sound (9-11 June) is possibly the biggest music festival in the North of Portugal, and, as always, it reveals an excellent music lineup, but also a phenomenal restaurant lineup.
This year, we'll be gifted with some usual presences, but also some novelties. It will also be the debut of the street food area, where we're sure to have a motorized invasion, bringing food from near and far beyond. We're sure to welcome the diplomats of Spanish, Mexican, Argentinian (we hope!) and other cuisines to our fine city.
Amass. Cook. will be in the field to taste and evaluate the best performances of the year. You may follow our activity live on Instagram and Twitter, where we'll share the best gastronomical views of the festival. Be sure to share your experience with us @amass.cook (Instagram) and @AmassCook (Twitter).
HIGHLIGHTS
CASA GUEDES
As usual, Casa Guedes leaves home but strives for perfection. Mr. César and company will bring their best roasted pig legs and make their delicious and juicy pork sandwich, with, or without cheese. This wonderful pig's leg will shine once more in the plate of festivalgoers.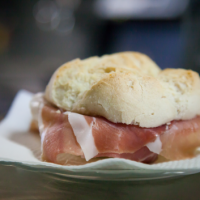 TASCA DA BADALHOCA
Tasca da Badalhoca (Tavern of the Filthy Lady) has the most genuine name of all the restaurants in this festival (even though it's very clean). Diversity is aplenty, and you can pick between presunto (ham), liver & onion, blood sausage, alheira, tripe, rojões (pork belly), suckling pig, cod and many more sandwich fillers.
SNACK-BAR GAZELA
This year, the old guys at Snack-bar Gazela are going to unleash the dogs in the festival for the first time. And being the best cachorrinhos (hot-dogs) in Porto, they are delicious, hot, small and well filled.
CONGA
The traditional and spicy bifanas (sandwiches) will certainly make you dance the  Conga, which is more than appropriate for a festival. For the fiery spice and pork lovers.
PADARIA RIBEIRO
Padaria Ribeiro has been making dough and putting bread, cakes and cookies in the oven since 1878. This year they're back to the scene to bump up our calories so we can keep up with the shows.
MARIA WURST
Now is your chance to practice some German, since these sausages combine  Maria Wurst's German savoir-faire in the art of sausage-making (and hot-dogs) with Portuguese ingredients.
COMPLETE LINEUP
FOOD COURT
A Badalhoca, Cacau, Snack-bar Gazela – Cachorrinhos da Batalha, Casa Guedes, Central dos Pregos, Chiparia, Conga, Creperia School Bus, daTerra, Dom Peixe, Food On Tour, Fresca Inspiração, Lado B, Maria Wurst, Máximo, Oatmill, Orlando Martins, Padaria Ribeiro, Prazeres da Bairrada, Quinta dos Fumeiros, Rota do Chá, Santini, Sr. Showriço, Subenshi, A Tachadinha, The Wrepe Van, Tomatino, Vegetas Sobre Ruedas.
STREET FOOD
A Portuguesinha, Cereja do Fundão, Comida de Rua, Culto da Nata, GB-Sweet House Gourmet, Gelados de Portugal, Gomas e Lambarices, Hand Go, Juice Up, La Catrina, La Rabaneta , Ma Petite Creperie, Perrito Bravo, Porto Chips, Puorto Honest Food, Temako, Vira Lata, Zé da Tripa.