In Portugal—at least in the North—every time you sit down at a typical restaurant and you're asked what you'd like to drink when you answer "wine" you're asked the question: "verde ou maduro?" (literally, green or mature). The answer depends on individual tastes, but people don't think twice and instinctively respond… maduro (or verde)! How come people are asking for mature wine? Or green wine?
This made us bring up the topic of green wine (vinho verde), that misunderstood wine, starting immediately by its name. Well, verde means green. But green wine is not actually green—regarding its color—nor green—regarding its maturation. The green wine grapes are only harvested after full ripening, after all, we aren't talking about verjus (an acidic immature grape juice). The naming is believed to have come from the lush green vegetation of the region of Minho, where these wines are produced. So now that we've gotten that out of the way, let's go on to uncovering other mysteries surrounding this popular Portuguese wine.
A BRIEF HISTORY OF GREEN WINE
Minho, the green wine region, has sustained viticulture for over two millennia. We can find several Roman records that approach the cultivation of vines in the area. Later, in the 12th century, religious orders assume a pivotal role as advocates of local wine, introducing new grape varieties and viticultural techniques. The practice of winemaking is marvelously portrayed in a local illuminated manuscript dubbed Apocalipse do Lorvão (1189), as may be seen below. The monastic orders, in particular, the Benedictines and the Cistercians, were the safe keepers of the secrets of the green wine, piling up on knowledge and traditions which were a (few centuries) later passed on to the local population.
Historically, green wine was also known as "hanged" or "hanged man's wine" (vinho do enforcado). This curious designation comes from the fact that many times the vines were planted close to trees—the famous uveiras—and ended up climbing up through them, resulting in hanging bunches of grapes. This technique has survived until today, but finding uveiras in Minho's landscape is getting harder, as today most vines are trained using the cordão technique. 
The uveira technique was effectively cheaper, easier, and more productive, and was the favorite amongst local growers, as well as the arjão (vines climb between trees). However, the wine that came from the so-called uveiras was of significantly inferior quality due to decreased solar exposure, so the richer classes—the clergy and noblemen—preferred planting the vine upright or in ramadas (trellised). This superior quality wine then made its way into commercial circuits, as the desire for green wine wasn't at all limited to the Minho.
Curiously, green wine was the first Portuguese wine export. It's hypothesized that some of the first people to endeavor in this trade were the Portuguese fishermen who sporadically traded green wine for codfish in England. This would have been around the time when Afonso Martins Alho negotiated the first commercial deal with the British, on the account of codfish fishery (1353).
The demand for green wine only began to consolidate in the 16th century, by when the English established their first Feitoria (trading post) in Portugal, up in Viana do Castelo. It was from there that they exported the region's wines (in particular those of Ribeira do Lima and Monção) to all of Europe, especially to England and the Netherlands.
With the demarcation of the Douro region in 1756, the green wine region lost strength, power, and preference. Then followed a struggle of the Minho producers against the Companhia Geral da Agricultura das Vinhas do Alto Douro (the entity responsible for the Douro region), a fight that always leaned favorably towards the Douro. The vinho verde producers then claimed the demarcation of their region, claim that was appeased by the creation of a Society founded by Queen D. Maria I in 1784, but only came to materialize in 1908. In spite of this, the date makes the green wine region the second oldest in the country, and one of the oldest in Europe.
VINHO VERDE DEMARCATED REGION
When you travel to the far northwest of Portugal, you'll find a region called Minho. Nested between the districts of Porto and Viana do Castelo, this region is delimited by the Douro to its right and the Atlantic to its left. In the midst of a lush viridescent scenery, you'll discover the scattered vineyards that produce the famed vinho verde.
Indeed, it's only real green wine (vinho verde) if it's produced in the Vinho Verde Demarcated Region, one of the largest demarcated regions in Portugal and in Europe. It is divided into nine sub-regions, namely: Monção and Melgaço, Lima, Paiva, Basto, Cávado, Amarante, Sousa, Ave, and Baião.
If you contemplate the region's landscape, you'll soon notice it's quite different from the rest of Portugal. The aforementioned exuberant vegetation is explained by the particularly rainy weather and mild temperatures. The soil is mostly composed of granite, rich in acidity and poor in phosphorus, in contrast with the neighboring Douro, which is based on schist. These factors shape the profile of the wine, but the importance of the sub-regions reminds us that each area has its own terroir, which is intimately connected to its edaphoclimatic particularities, of the grapes varieties there planted, and the traditions of local winemakers.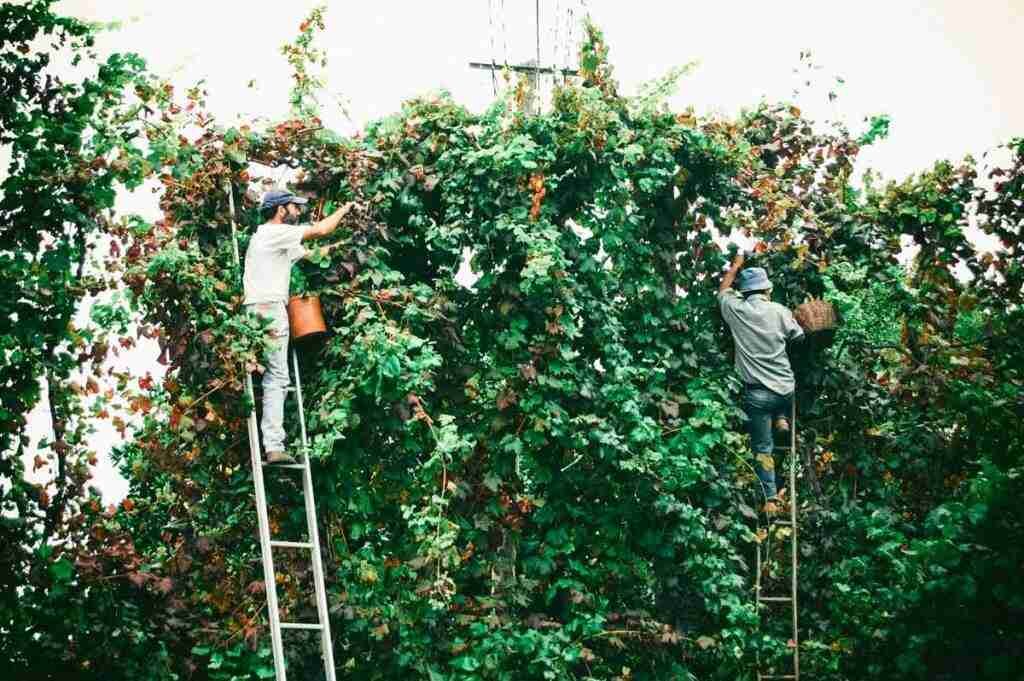 WHO ARE YOU, GREEN WINE?
The truth is that there aren't two identical green wines, and you simply can't label them as a whole. If we generically stated that all green wines are "fresh, sparkling, and cheap" (e.g. this piece from the New York Times), we wouldn't be telling you the whole story.
Of course there are fresh and cheap vinhos verdes. There are wines that are good for summer, for the parish's celebrations, and for drinking at the tavern. Could a vinho verde ever be dry, or lack the famous fizz? Would anyone even recognize it? Trust us, they would.
Many small producers have been betting on making the best out of the region's fantastic native grape varieties. These include—but aren't limited to—the well-known alvarinho, loureiro, and vinhão, but also avesso, azal, trajadura, and arinto, among others. Forward-thinking winemakers are currently concerned with adequately defining and valuing the sub-regions' features, as well as cultivating the vine in the conditions that render them the best acidity and grape sugars. Thereon, they take risks in making single variety wines and bold blends. And some producers also stage their wines in wood (unlike most green wine, which stages in stainless steel). Modern vinho verde is different. It's still in a quest for its identity, and longing to reach maturity.
And that's precisely why the perception of green wine both in Portugal and abroad should honor tradition, but it should also believe in a new generation of winemakers that put great efforts in distancing their wines of the worn "fresh and cheap" image, and that ambitions to transcend the borders of unspecified grape varieties and artificial carbonation*, and the idea that green wine can't age in the bottle.
* Curiosity: the famous "agulha" or carbonation of green wine relies upon a second fermentation deemed malolactic fermentation. It consists of the transformation of the naturally present malic acid into lactic acid and carbon dioxide (CO2) by the action of lactic-acid bacteria. This fermentation also lowers the perceived acidity of the wine, as lactic acid is gentler than malic acid. This type of fermentation is more frequent in red wines than in white, as the latter benefit from more acidity. Traditionally, malolactic fermentation occurs after bottling, where the gas is trapped inside the bottle. However, currently, most producers recur to artificial carbonation of the wine instead of fermentation.
Today, the industry counts with around 20.000 producers, in a total production area of around 15.882 hectares (2017). Sixty million liters of wine are produced per year (data from 2016/2017), of which 25 million proceed for exportation. The biggest green wine importers are Germany, the USA, France, Brasil, Canada, and the United Kingdom.
WHITE VINHO VERDE
White green wine is at the top of the class. It stands out due to its delicacy, plasticity, and complexity. The tones of the whites vary between golden and pale citrus, but in terms of aroma and flavor, it truly depends on the grape variety, sub-region, and blend. They often follow a more fruity or floral profile, and in general heed to a well-balanced acidity. And in spite being hard to define these white wines as a whole, there are effectively two grape varieties that represent many of the region's accomplishments: alvarinho and loureiro.
Alvarinho is the queen of Monção and Melgaço, lands where it adapts perfectly and produces a splendid single variety wine that is distinct from all other white vinhos verdes. Alvarinho wine is straw-colored, dry and full-bodied, with a balanced acidity, and a slightly higher alcohol content. The bouquet is floral and fruity, reminiscing of citrus, peach, and apples. It is an exquisite pairing for seafood and fish. Indeed, many consider Alvarinho one of the world's greatest white wines. And in accordance, some of the producers that elevate Alvarinho to such standards are the Quinta do Soalheiro, and the producer/enologist Anselmo Mendes. 
And then we have loureiro, which reigns in the Lima Valley. Loureiro is used in producing fine monovarietal wines that present a citrus hue, with a harmonious and fresh flavor, crisp acidity, and a lime, apple, grapefruit, and orange flower bouquet. Loureiro wines blend beautifully with grape varieties such as trajadura, alvarinho, and arinto. Amongst its producers, we can feature the highly awarded Adega Cooperativa de Ponte de Lima, as well as the ambitious and innovative Quinta do Ameal.
RED VINHO VERDE
The red green wine holds a special place in the hearts of the Portuguese. Many love it, but many others hate it (or maybe they just don't understand it). The flavor of red green wine is markedly adstringent, with a full-bodied character, a fruity and winey aroma, and an unmistakable ruby red hue that leaves a stain on the pitcher and bowl. Did I say bowl? In traditional settings, red vinho verde is drunk from a bowl with its foam still frothing, served straight from the barrel.
To produce reds, winemakers turn to grape varieties such as vinhão (the most popular choice), but also borraçal, espadeiro, and rabo de ovelha. All in all, the image of the red green wines shouldn't be restricted to the better known rustic and homespun profile, because these reds can also be refined, and nothing short of excellent. Some winemakers are revolutionizing the segment, as is the case of Vasco Croft with Aphros Vinhão or Anselmo Mendes with Vinhão.
For those who insist they just can't get along with reds, we'll give you a tip: maybe you should try them with something that suits them well. That goes for papas de sarrabulho (pork blood soup), lamprey rice, caldo verde (kale soup), rojões (fried pork belly), or codfish. It should be drunk in a range of 12 to 15ºC.
ROSÉ VINHO VERDE
The rosés are a more recent addition to the world of green wines. They're made exclusively with red grapes, in particular, espadeiro and padeiro. However, the red grapes are submitted to a vinification process that is similar to white wines, which gives the rosé its characteristic tint, that can range from pale to intense pink. The flavor of the rosés is slightly sweet, with notes of red berries such as strawberries and raspberries, so they make for great aperitifs and excel at siding desserts. Ideally, they should be drunk between 8 to 10ºC. If you're looking for a good bottle, go ahead and try Dom Diogo Padeiro from Quinta da Raza.
SPARKLING VINHO VERDE
It comes as no surprise that the features of green wine grapes make them an interesting matrix to develop (champagne-like) sparkling wines. Green wine sparkling wines are very aromatic, with an elegant profile, fine bubbles, and a balanced acidity. They make excellent aperitifs but are also a good choice to pair with meals, and should be drunk at a temperature between 6 and 8ºC. We can highlight the sparkling wines from Quinta do Soalheiro (Bruto Rosé and Bruto Alvarinho).
GREEN WINE BRANDY
When there's wine, there's brandy (aguardente). In the case of green wines, we have both pomace brandy (aguardente bagaceira) and wine brandy (aguardente vínica). The first, made by distilling pomace, can be presented as velha (old), having aged in wood, or as branca (white), without aging. Of these, we may highlight the pomace brandies by Palácio da Brejoeira or Aveleda. Alternately, you'll find the wine brandies, distilled from must. In fact, vinho verde wine brandies were used to fortify port wine back in the 1700s. These brandies are of superior quality, have an excellent aging potential (velhas), and are also the ideal spirit to end a meal with. Highlight goes to the celebrated Adega Velha brandy by Aveleda.
VISITING THE GREEN WINE REGION
There comes a time when savoring the wine isn't enough and you need to go discover its origins. Indeed, one of the biggest pleasures you may encounter in Portugal is visiting the lavish green landscapes of Minho, amongst its stunning mountain ranges and crystalline waterways, meeting its inhabitants, and savoring the region's vibrant gastronomy and wines. To help you on your path in the green wines region, we compiled a list of some of its best wine estates. If you'd like to get to know the region with our private tours, get in touch with us.
QUINTA DE SOALHEIRO
Melgaço
Quinta de Soalheiro is admittedly one of the best wineries in the country. This family-owned estate was the first to create an Alvarinho brand from Melgaço—Soalheiro—widely recognized both nationally and internationally. The company openly embraces innovation in winemaking, which can be seen in the cellar, but is also dedicated to exploring wine tourism by promoting visits and tastings to the estate. You can make a free tour of the Quinta and enjoy a tasting, but it's worth scheduling in advance and investing in lengthier wine tastings, which also include a cured meat sampling. In the estate's store, you can find a wide range of brand's green wines.
Alvaredo, 4960-010 Melgaço
+351 251 416 769
QUINTA DO AMEAL
Ponte de Lima
Right in the heart of the Lima Valley, you'll find the small and picturesque Quinta do Ameal. Recognized for the excellence of its single-variety Loureiro wines, this estate offers an enriching grape to glass experience. All the wines produced in the farm come from organic grapes, resulting in a superior quality product with a responsible environmental footprint. The determination and passion of these small producers has materialized in their magnificent white vinho verdes, praised by some of the world's top specialty publications. Besides to trying out a wine tasting, you may also enjoy an overnight stay in the estate, which offers splendid and relaxing facilities surrounded by nature.
Refoios do Lima, 4990-707 Ponte de Lima
+351 258 947 172
QUINTA DA AVELEDA
Penafiel
Aveleda is one of the great names of green wine or were it not the birthplace of Casal Garcia, Charamba, and the brandy Adega Velha. In Penafiel—just a hop away from Porto—lies the striking 19th-century farmhouse, on lands cultivated for over 300 years. By appointment, you may try a variety of wine tastings, which include thematic samplings, with activities such as a regional lunch, a picnic in the vineyard, a visit to the old cellar, or a variety of workshops and courses. Beyond the splendor of the wine, we also recommend that you lose yourself amongst the estate's impressive romantic gardens, and appreciate the constructive details that rise among the lush vegetation. You'll encounter the Gatekeeper's house, the teahouse, the Goats' tower, and also the Manueline window where it is believed D. João IV was acclaimed king. In the store, you may purchase the wines and brandies produced in the Quinta, but also their homemade cheeses and jams.
Rua da Aveleda nº2, 4560 – 570 Penafiel
+351 255 718 242