Christmas season has arrived, and in this time of celebration and traditions, there's a lot of fuss over food. While most Portuguese dedicate their body and soul to a multiplicity of cooking endeavors during Christmas Eve, there's something most of us agree on buying out. It's the bolo–rei (king cake), the cake that colors tables all over the nation.
The informal custom dictates that it's ordered and collected on the day at a trusted confeitaria (pastry shop). And that's because it's still a very seasonal delicacy that wakens the confeitaria's competitive spirit: they work hard to use the best ingredients and employ the best techniques to quench their demanding clientele's appetite. It's not secret that an excellent bolo-rei will quickly harvest fame and prestige to the pastry shop that bakes it.
Do you know which of Porto's traditional confeitarias have the best bolo-rei? Well, we'll tell you. Along the way, discover a bit of the history of a cake that is so symbolic that it almost vanished, and temporarily lost its name.
THE HISTORY OF BOLO-REI
The history of bolo-rei in Portugal isn't as long as one may imagine, but still, it's been around for almost 150 years. There's a general consensus that the recipe we know today originates from France, namely from the gâteau des rois of Bordeaux, which is quite different from the also delicious galette des rois, made from puff pastry.
The recipe for bolo-rei arrived in Portugal in 1875 by the hand of Baltasar Rodrigues Castanheiro Júnior—owner of the famous Confeitaria Nacional in Lisbon—after a trip to Paris. He recruited a Parisian pastry chef named Gregório (probably Gregoire…!) and launched the bolo-rei on the Three Kings Day. It was a massive success, and the recipe quickly propagated to other confeitarias in Lisbon. Bolo-rei finally arrived at Porto in 1890, showing up in Confeitaria Cascais, with a recipe the owner brought over from Paris.
Traditionally, bolo-rei was eaten purposely on the 6th of January, the celebration of the arrival of the three kings to Bethlehem. However, the cake became increasingly popular during Christmas, as it still is today.
Curiously, the existence—or at least the name—of bolo-rei faltered during the implantation of the Republic in 1910, in similarity to what happened in France during the French Revolution. The name was temporarily changed (President cake, National cake, or Arriaga cake), but the custom of savoring it lived on.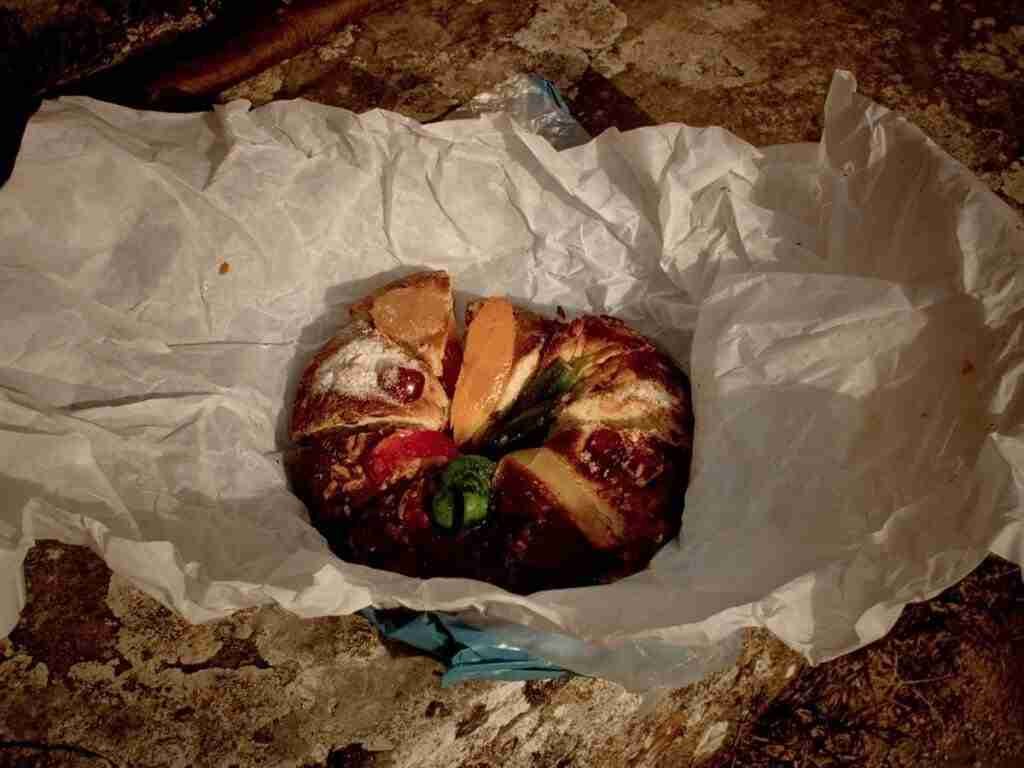 THE TRADITION OF THE FAVA BEAN
For those who aren't familiar with bolo-rei, one should mention it traditionally contains a fava bean or a trinket hidden inside. The introduction of the fava bean inside the bolo-rei (and of the cake itself, according to some historians) possibly originates from the Roman ritual of the Saturnalia celebrations. In these feasts, a fava bean was hidden inside a cake and the lucky duck who caught it would be crowned king for a day. The custom continues to appear all throughout history and ended up being associated with the Christian celebration of the Epiphany during the Middle Ages. In fact, this custom is still practiced today, although the meaning of "catching the fava bean" may differ amongst cultures. In Portugal, the lucky person who catches the fava is the one who has the unlucky chore of buying the bolo-rei next year. Nevertheless, today it's getting harder to find a fava bean inside the cake, and if you're lucky you may find a porcelain trinket.
THE INGREDIENTS (AND RECIPE) OF BOLO-REI
The ingredients of traditional bolo-rei are simple but plentiful: brioche dough (butter, flour, sugar, eggs, salt, yeast), citrus peel, candied fruits (citron, pumpkin, cherry, orange, and fig), pine nuts, walnuts, almonds, sultanas, and spirits like aguardente or rum. The cake is then appropriately decorated with large slices of candied fruits, nuts, and powdered sugar. For those who want to prepare it at home, we recommend a visit to Porto's wonderful specialty groceries, that are always stocked up with the best candied fruits money can buy.
There are also popular variants to bolo-rei, such as the bolo-rei escangalhado or the bolo-rainha. The bolo-rei escangalhado (which loosely translates to squashed or torn-apart bolo-rei) is a recipe that has been around since at least 1939 (Confeitaria Dantas in Viana do Castelo), and is composed by dried fruits, nuts, and chila jam (pumpkin). The bolo-rainha (queen cake) is the ideal companion for those who aren't too keen on candied fruits, as the filling only contains nuts and dried fruits. Of course today we see more extravagant transfigurations, such as the chocolate bolo-rei, but that's a whole other story.
If you want to get your hands dirty, we'll leave you with a video of Chef Mário Rolando, that teaches the recipe of a traditional bolo–rei (only in PT, ask us for the translation if you need it). Below is a list of ingredients, and the respective amounts.
Traditional bolo-rei by Chef Mário Rolando
1 kg of type 55 wheat flour
500 g of macerated fruit
200 g of dried fruit
200 g of sugar
200 g of butter
200 ml of milk
4 eggs
100 ml of spirits
22 g of dried yeast
20 g of salt
Optional: sourdough starter
WHERE TO BUY BOLO-REI IN PORTO?
The truth is that buying a bolo-rei in a confeitaria close to Christmas Eve requires a particularly strong will that perhaps only unconditional fans and traditionalists can achieve. Because I'll tell you one thing: standing in line in the freezing cold of winter isn't everyone's cup of tea. Well, at least not until there's an app that delivers bolo-rei at home (is there any?). However, the complicity that is cooked up while waiting in line for the bolo-rei is eternal. In the end, you need to sow persistence to reap the spoils: once you bite down into the first slice, you'll notice the difference. There's no way to go around that.
Well, in spite of whichever way your cake gets to the table, the truth is it has to come from somewhere. And Porto, as a gastronomer's city, demands truly excellent bolo-rei. Fortunately, we have the luck (or merit) of having so many great confeitarias, who know they have to break a sweat every year to produce a contender to the title. And this takes us to the never-ending debate: who makes the best bolo-rei in town?
To get into the thick of things, here is our selection of the best bolo-rei in Porto, and where to buy them:
Hint: If you want to try bolo-rei and other delicious Portuguese sweets, and learn all about them in the process, then join one of our food tours.
THE BEST BOLOS-REI OF PORTO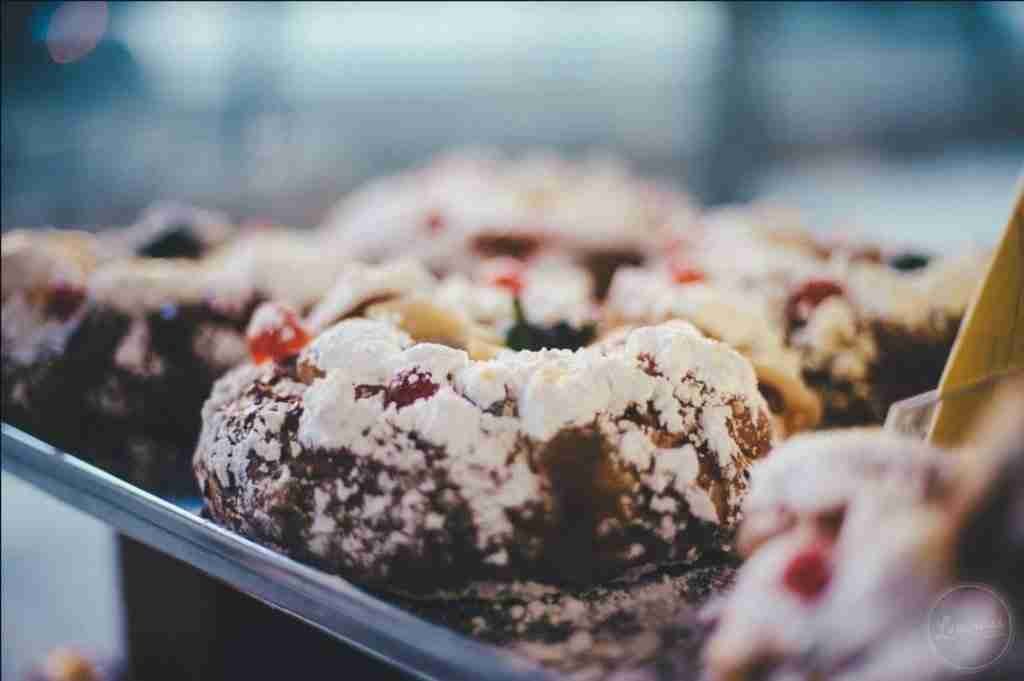 PETÚLIA
One cannot deny that this teahouse and confeitaria has brought fond memories to many Portuneses' Christmas since 1972. Fortunately, Petúlia's bolo-rei transcends Christmas: it's available all year round. But it's during Christmas that the lines go around the block, and the smell of brioche and candied fruit invades the imagination of all those who walk the Júlio Dinis street. For those who aren't fans of bolo-rei, the bolo-rainha is made exclusively with dried fruits and nuts and is equally good. Those who don't want to despair in line can step over to Duvália, which belongs to the same owners and bakes the same recipe.
PORTO RICO
The discreet Confeitaria Porto Rico is a well-kept secret. Located in the beautiful 1950s Parnaso building, designed by architect José Carlos Loureiro, this pastry shop has been baking its delights since 1958. The bolo-rei is a seasonal specialty, made daily with the utmost care. The brioche dough has a deliciously distinctive flavor, and those who are acquainted know that the cake is bountiful with dried and crystallized fruits. Overall, it's a well-toasted, soft, and generous bolo-rei. Besides the bolo-rei, you should go head over heels for their jesuítas, suspiro (merengue), and their famed digestive biscuits (digestivo). As Christmas gets nearer, you'll want to call in and reserve your cake, to avoid disappointment. By the way, if you peek into the building's garden, you'll see a colorful bench by Portuense painter Júlio Resende.
CONFEITARIA NANDINHA
Open since 1975, Confeitaria Nandinha is known for their fabulous glorinha (egg cream-topped puff pastry), but they also have a strong tradition in bolo-rei. That explains the sizeable line that forms at the door and the over the four thousand cakes sold on Christmas Eve. During the season, there is bolo-rei every day. Off-season, you can buy it on weekends or per order. Also, try the bolo-rei escangalhado (with chila) or with dried fruits and nuts. Oh, and don't forget to take some húngaros (chocolate and butter cookies) for the way!
NOVA REAL
In Carvalhido we can find a rising-star in the championship of bolo-rei. Composed of a very generous amount of dried and candied fruits, this bolo-rei just keeps on rolling out the oven during the Christmas season. As there's always someone in the family who prefers an alternative bolo-rei, here you can also find a version with chila (pumpkin jam), dried fruits and nuts, or chocolate. Highlight also goes to the moist pão-de-ló (specialty sponge cake), the pear and walnut muffins, and other Christmas cakes like the Christmas log, or the lampreia de ovos (a lamprey-shaped* confection made of eggs and sugar).
* this seriously depends on your imagination, it may look like a salamander, a newt, or a Loch Ness monster.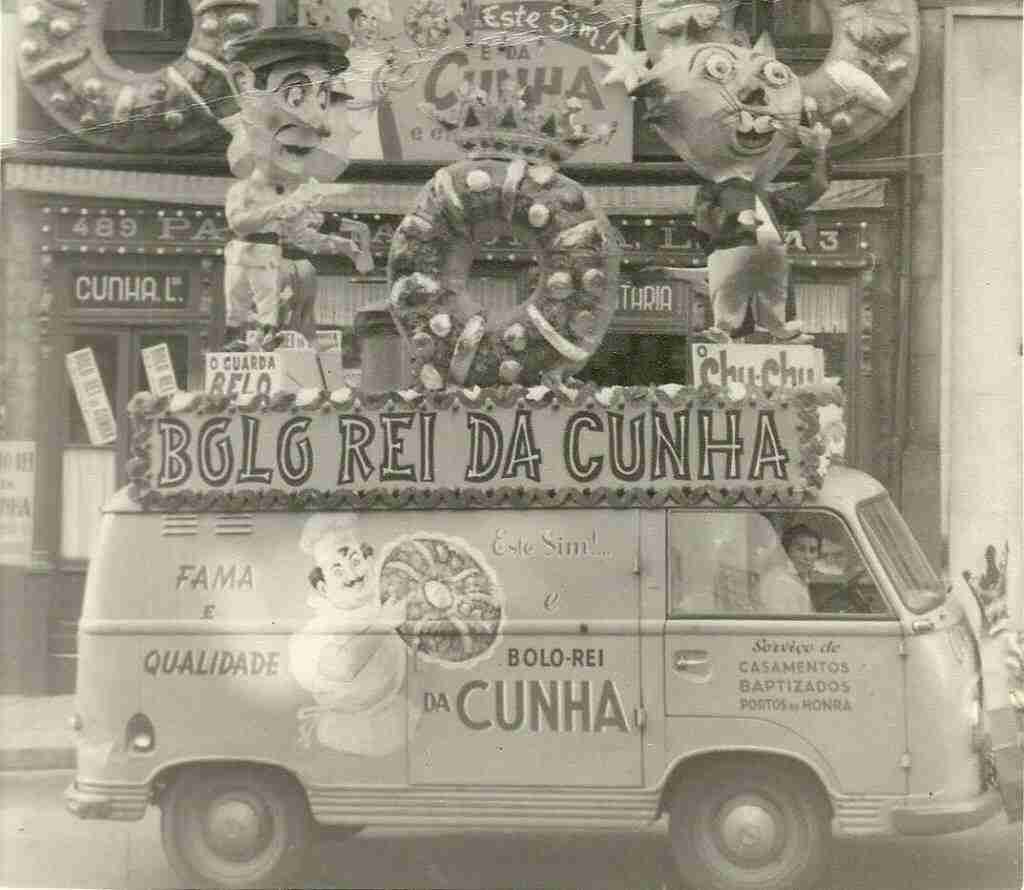 CONFEITARIA CUNHA
Christmas in Porto's downtown wouldn't be the same if it weren't for Confeitaria Cunha's iconic bolo-rei. Open since 1906, this confeitaria primes for the excellence of their sweets, in particular, their runny pão-de-ló, their bonbons, and of course, their bolo-rei. During the season, the confeitaria enters a frenzy of baking to satisfy the ever-growing hoards of customers. As at Cunha they take seasonality quite seriously, during other times of the year you'll only get your hands on bolo-rei by order.
Have you chosen your favorite? Give your verdict in the comments.