Around May of 2016 the Depósito de Sola e Cabedais closed its doors. The following article was written by us as a result of a visit a few months before closing. We invite you to a much-needed reading of this text that brings memories of older times while it faces the reality of the present times.
Its facade will remain for posterity.
Depósito de Sola e Cabedais Adriano Vieira da Silva Lima & Cª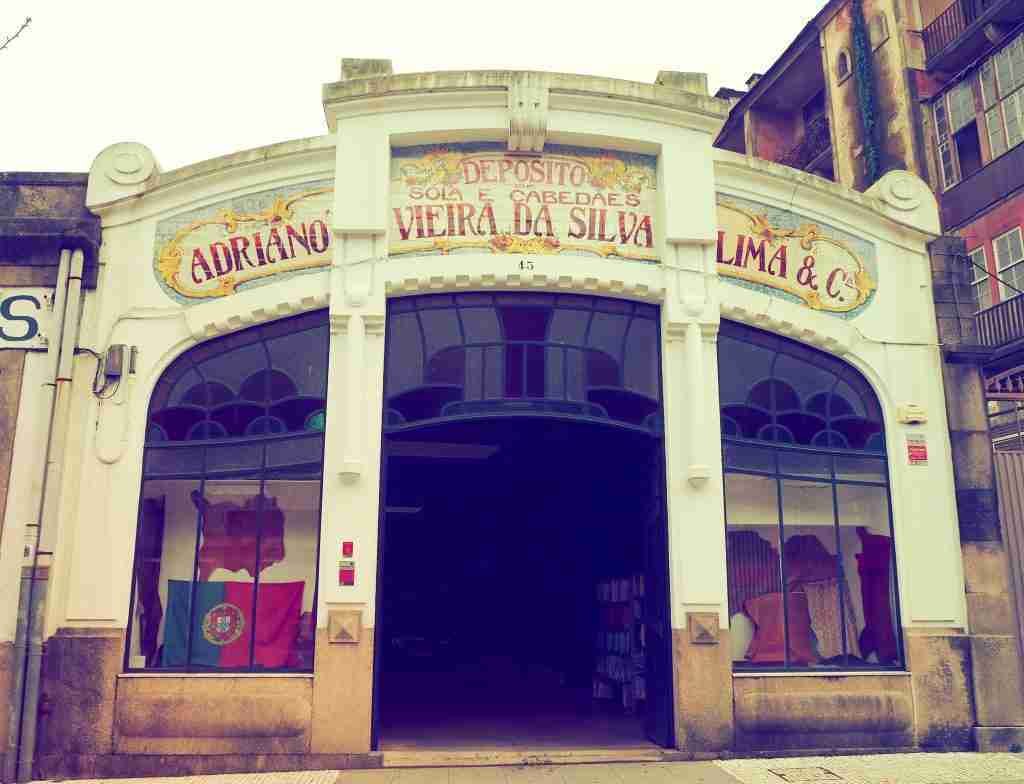 F. Fernandes Guimarães & Cª Lda.
Rua do Ateneu Comercial do Porto, 45
4000-380 Porto
Tel: 222 089 640
Although the city of Porto is now an open book, there are still places that amaze us with their beauty and tradition, which are often hidden in our day-to-day life. The age-old warehouses Depósito de Sola e Cabedais Adriano Vieira da Silva Lima & Cª are located in the sheltered Rua do Ateneu Comercial do Porto and are an excellent example of the traditional commerce of Porto. The company was founded in the late 19th century by Adriano Vieira da Silva Lima, a notable trader, and politician. In the magazine Ilustração Portuguesa's edition of April of 1917,  a report was issued about this establishment, and it states: "We can consider today, without fear of exaggerating, that this is the biggest and most complete of Portugal and of all the Peninsula.".
This establishment is by excellence the main supplier for the city's cobblers but also supplies a vast network of artisans that work the leather and transform it into bags, purses, briefcases and other accessories.
Its facade is famous among us due to its magnificent tile panel, which states the company's name on a white background, surrounded by botanical and revivalist elements above a background dyed in light blue. The beautiful wrought iron gate and the windows are topped by tinted glass of various colors, which rejoices in color when light passes through.
At the entrance, everything seems preserved in time. This calls for a recollection of a description of the warehouses made in 1917:
"Throughout the vast warehouse, which is lit with skylights that tear through the ceiling, a double row of high shelves is set, and through which the air circulates through an ingenious apparatus, thus avoiding the deterioration of the fabrics."
The magnificent shelves still exist, covered in many different qualities of leather and suede, as well as soles, glues, laces, buckles, heels, binders, solvents, paints, waxes, polishes, eyelets, springs, insoles and tools. Simple wooden stairs line the shelves, rising up to a walkway that allows the workers to walk along the highest shelves, as the owner, Mr. Victor Nunes promptly showed us.
The service is still old-fashioned, as is customary to the old stores of Porto. Service is nice, knowledgeable and serious, and filled with savvy advice. The packages are still tied as before, wrapped in brown paper and sporting a handle crafted with braided rope, for added comfort and safety in transport, as demonstrated by Mr. Vítor Nunes. Customers enter, and most of them are usuals, they know what they come for. Some passers-by come looking for comfortable insoles, laces or creams for their shoes. Professional cobblers request complex orders, taking advantage of the specialized products that this establishment sells. The artisans also sprout, assessing the leather for the perfect tone. And thus, sometimes a tourist may surface, to admire the tile facade and – rarely – to acquire a souvenir such as a little tin of wax. While tending to the customer, the employee, Mr. Fernando, consults the extensive catalog and carefully writes down the inventory.
If we ask which leathers are sold, we're told there are cow's, pig's and lamb's skins. Here we can find all sorts of leather, either smooth or embossed, neutral or dyed in colours that suit all tastes. Cow's leather is versatile, hardy and good for shoes, purses, and clothing. Pig's leather is usually used in linings for clothing, of for accessories for animals, such as dog collars. Lamb's skin, or chamois, is especially used for book bindings, but also in high-quality clothing, such as coats and gloves. It is necessary to assess the adequate leather for each case, by analyzing its qualities regarding thickness, strength, and suppleness. For instance, boots require a tougher leather, while sofas require a thick, yet supple leather.
Transversing the length of the wood balconies, we can observe boxes and boxes of meticulously organized products as is required in a warehouse of this dimension. This is a haven for artisans, that supply themselves with the most varied leathers and suedes, and the materials to work and preserve them.  We can also find absolutely everything you could want to salvage that beloved but downtrodden pair of shoes. And we were told there isn't a shoe that can't be saved.
The backroom, where once elegant counters stretched through, was closed in the mid-twentieth century to give origin to a section of confections and material preparation, as may be observed by the heavy machinery for cutting soles and sewing leathers. Time seems to have stopped here, and apart from the thousands of recent leather scraps, we're still in another era.
One of the most interesting details comes as a surprise: there is a door that hides behind it a water mine, and according to Mr. Vítor Nunes, you can travel knee-high in water through Porto's entrails.
The company that oversees the warehouse, F. Fernandes Guimarães & Cª Lda, is owned by Mr. Vítor Nunes. Mr. Vítor Nunes reported to us the successes of the past and the challenges of today, which focus mostly on one thing: survival. He tells us of a time in which they manufactured their own products, such as purses, belts or even sandals made of airplane tires. The decline of the garment industry, particularly of footwear, as well as the competition of low-priced imports, has been responsible for a significant drop in revenue, and it is now harder to win and maintain customers, who often fall shy from quality and yearn for low prices. Also, the fall of the Portuguese tanning industry lead to the extinction of several quality suppliers, which also hurt the business. Keeping this business is now a complex challenge, which may force the company to reinvent itself, or admit defeat.
We leave our tribute to an establishment that fights against time and remains a mirror to the bourgeois Porto, made by the trade and industry of yore.